Colored Pencil Drawing from Photo
Colored Pencil Drawing from Photo
Colored pencil portrait drawing made from your photo. 100% free-hand drawn on art paper by a master portrait artist. Artists can also draw houses, pets, dogs, cats, and scenery from your photo. Includes unlimited revision requests until you are satisfied with the end result. Available rolled or framed.
Drawing time is about 6 days. Merge multiple photos into one drawing, swap heads or bodies, or change backgrounds.
Turnaround Times

Place an order to see actual estimates from artists and studios. Free cancellation within 24 hours.
Limited Time Promos: FREE WORLDWIDE SHIPPING for paintings larger than 12"x12" (economy shipping only). Promos automatically applied at checkout.
A 12"x12" is small and cannot fit much detail. Artists do not like working on sizes this small so there may be limited artists to choose from. This size works well if your photo is an extreme closeup or if you are expecting more of an impressionist painting. For a more detailed and accurate painting, we highly recommend 16"x20" or larger.
Customize & Order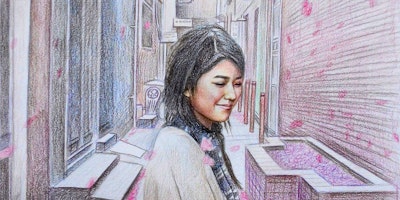 View Full Gallery
View More Samples by Category
Best Artist Guarantee
Because Instapainting is powered by a network of independent artists, we query hundreds of artists to specifically find the best artist specializing in the minutiae of your requirements and subject matter. The samples on this page are real customer orders and undoctored photo uploads from our artists.
We're so confident that we find the best artist for the specifics of your order that we back all orders with our no-questions-asked
100% Money Back Guarantee.