When celebrating half a century of friendship, nothing says, "I appreciate and cherish our memories," like a thoughtful 50th-anniversary gift. Just think about it: those five decades are teeming with shared laughs, tears, triumphs, and trials that have shaped the bond you share today. That's not just any ordinary milestone – it's golden!
Now, if you're scratching your head wondering what could encapsulate such an epic journey of camaraderie, don't sweat it! They've got your back! In this article, they'll share some unique 50th-anniversary gift ideas perfect for showing your friends how much you value their presence in your life.
From personalized items filled with nostalgia to luxury gifts that scream grandeur, there's something for everyone. So buckle up and start exploring these fabulous suggestions; whether sentimental or extravagant, they guarantee you'll find the perfect token of appreciation for your lifelong pals!
Table of Contents
Custom Painting from a Photo

Personalized and Thoughtful Gifts

Golden Themes: Incorporating the Symbolism

Traditional and Modern Gift Ideas

Celebratory Experiences

Home and Decor Gifts

Jewelry and Accessories

Gifts for a Lifelong Friendship

Budget-Friendly Friendship Tokens

Conclusion
Custom Painting from a Photo From Instapainting
Let's dive into the world of custom paintings from photos. It's an idea that marries innovation with sentiment, making for a truly one-of-a-kind gift. And where best to find such unique talent? Look no further than Instapainting. This online marketplace is brimming with artists itching to transform your favorite snapshot into an unforgettable masterpiece.
Instapainting isn't just another platform; it's a haven for artistic versatility. With countless artists showcasing their styles, you'll be able to find someone who can replicate exactly what you envision. Whether it's realism or impressionism, there's an artist on deck ready to deliver!
Now imagine this: Your friends are unwrapping their 50th anniversary present. They peel back the paper to reveal a painting – but not just any painting. It's a beautiful moment they shared, brought back to life through strokes of paint and the hand of a talented artist. Instantly, they're transported back in time; smiles creep onto their faces as memories flood.
View The Instapainting.com Gallery
Here are a few reasons why custom paintings from photos make perfect gifts:
THEY'RE PERSONAL: Custom paintings capture special moments and turn them into lasting mementos.

THEY'RE UNIQUE: Each piece is unique and cannot be replicated.

IT'S TIMELESS: A painting never goes out of style – it's something your friends will cherish forever.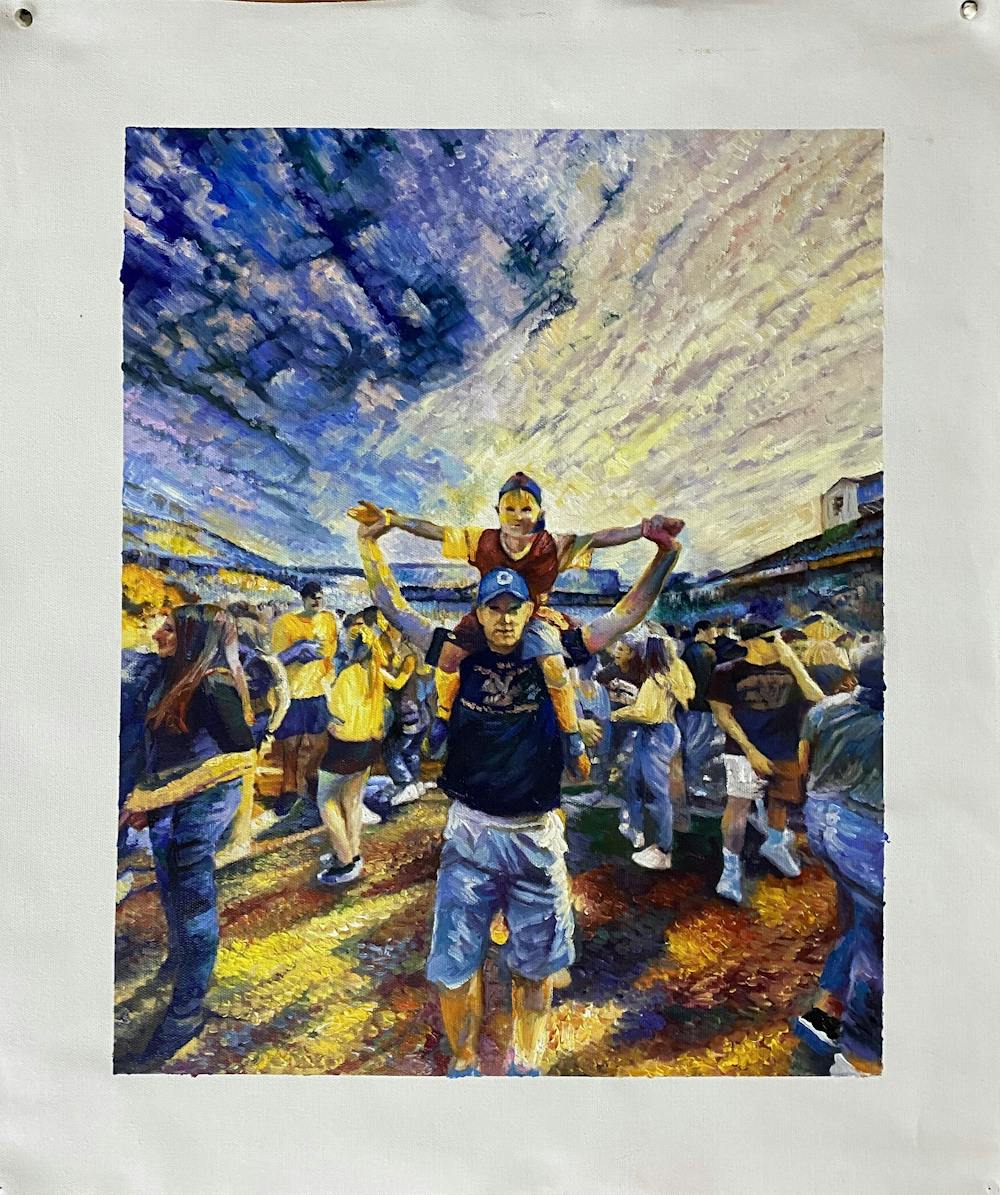 While commissioning art might sound intimidating (or expensive), Instapainting offers affordable options depending on size and medium, making it accessible for everyone. So give your friends the gift of memory reimagined through art!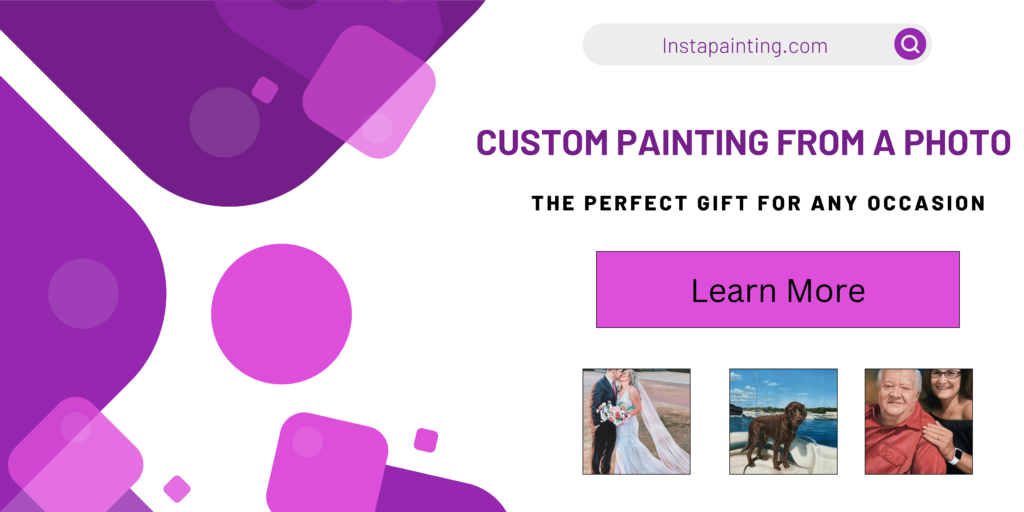 Personalized and Thoughtful Gifts
What better way to honor half a century of friendship than with personalized, thoughtful gifts? They'll show your appreciation and bring back shared memories from the past. Let's dive into some unique gift ideas that will touch their hearts.
First, there's nothing quite like bespoke jewelry. A charm bracelet or pendant featuring charms representing significant events or moments you've shared is fantastic. How about matching rings engraved with a special quote or date? These keepsakes will be cherished for years to come.
Next on our list, consider personalized artwork. Commission an artist to create a portrait of the two of you together, or select meaningful images from over the years and make them into a beautiful collage. This isn't just about adding decor to their home – it's about capturing moments in time and preserving them forever.
Thirdly, let's explore custom-made homeware:
For the wine lover, why not choose an engraved decanter?

A monogrammed mug set might be perfect if they're more into coffee.

And we can always remember those who adore cooking – personalized cutting boards are practical and personal.
Books always make great gifts, too, especially when they're customized! You could compile all your favorite recipes into one cookbook, write down funny anecdotes and stories in a memory book, or even put together 50 reasons why you appreciate them so much!
Lastly – but certainly not least – think about gifting experiences rather than things; maybe there's been something on their bucket list they've wanted to do for ages. Book it! Experiences often lead to unforgettable memories lasting far longer than any physical gift.
So there you have it! There are a few ways you can celebrate this momentous occasion with gifts as unique and special as your friendship has been these past 50 years. Remember, what matters most is showing your friends how much they mean to you. The thought and effort you put into finding or making the perfect gift truly counts!
Golden Themes: Incorporating the Symbolism
We all know that a 50th anniversary is often called a 'Golden Anniversary,' but have you ever wondered why? With its lustrous shine and timeless allure, gold symbolizes wealth, prosperity, wisdom, and, most importantly, endurance. Just like a marriage that's endured for half a century! Isn't it fascinating?
When selecting your golden-themed gift, consider incorporating elements of gold into the present subtly and more overtly. It could be anything from golden photo frames holding precious memories to customized jewelry featuring gold accents. If they're not much into worldly things, think about experiences instead! A trip to somewhere they've always dreamed of going – like California's Gold Country or a golden sunset dinner cruise.
Now, while we're on the subject of incorporating symbolism, let's talk about some other popular motifs often associated with 50th anniversaries:
Golden roses are an absolute classic and represent passion and eternal love.

The 'Goldstone' is believed to bring good luck… perfect for wishing another wonderful 50 years together!

Violets are the official flowers of fifty-year anniversaries, their deep purple tones striking against any golden backdrop.
And remember – it doesn't necessarily have to be real gold (that can get expensive!). Gold-colored items, or even those with just touches of this splendid hue, can carry the same sentiment without breaking the bank.
When choosing that perfect gift, remember that it's not just about its physical value but rather what it represents: Five decades' worth of shared laughter, tears, triumphs…a life lived side by side. And really, isn't THAT more precious than any metal could ever hope to be?
Traditional and Modern Gift Ideas
Traditionally, gold is the symbol of a 50-year milestone. This precious metal signifies the rarity of reaching half a century together, an achievement worth celebrating!
A golden piece of jewelry may be a classic choice, but others are out there. For instance, there are:
Gold-dipped roses: An eternal rose covered in pure gold.

Personalized gold nameplate necklaces or bracelets: A keepsake that carries sentiment.

Watches with gold detailing: Timeless pieces conveying love over time.
However, if you're looking to break tradition, some fantastic modern alternatives exist, too!
For those who appreciate experiences more than material things, why not consider:
Destination vacation: Send them to the place they've always dreamed about.

Wine tasting tour at a local vineyard: They'll sip on fine wines amid beautiful scenery.

Cooking classes for two: Let them bond over food and fun.
Beyond this, personal touches can transform even simple presents into treasures. It could be their favorite book inscribed with heartfelt words. Or a custom-made board game incorporating stories from their decades together?
To make your gift truly unique, consider mixing traditional and modern elements – like offering an art print featuring spots meaningful to their relationship done up in glimmering gold leaf details.
In choosing 50th-anniversary gifts for your friends, remember that it's all about celebrating enduring love and friendship — whether you prefer something gilded or not!
Celebratory Experiences
The 50th anniversary, also known as the 'golden anniversary,' is a significant milestone that deserves to be celebrated in style. So why not consider gifting your friends a celebratory experience they won't easily forget?
One option might be organizing a private dinner at their favorite restaurant. They'll relish indulging in delectable dishes while reminiscing about old times and creating new memories.
For the adventurous couple, consider arranging an outdoor excursion or adventure trip for them. Here are some suggestions:
Hot air balloon ride

Private yacht charter

A weekend getaway to a quaint B&B

Wine tasting tour

Cooking class from a renowned chef
If they're lovers of arts and culture, tickets to see their favorite band or theater production could make their day extra special.
On the other hand, there's no denying the appeal of relaxing experiences too! Spa retreats or wellness packages are ideal for those who'd appreciate a break from routine duties and would love some time dedicated just to relaxation.
To sum it up, whether it's dining under the stars, cruising on crystal blue waters, or soaking up culture at an art exhibit – these experiential gifts offer far more than material possessions ever could: they provide memorable experiences that'll last them another fifty years!
Home and Decor Gifts
Home and decor gifts can be a magnificent choice when it's time to celebrate a golden anniversary. They're not only practical, but they also hold sentimental value. There's something special about gifting an item that'll become part of someone else's daily life.
One of those thoughtful options is a personalized wall art piece. It could capture their favorite quote, names, or even the date they tied the knot 50 years ago! Other popular picks include:
Commemorative plaques

Customized throw pillows

Monogrammed towels
Remember, you're not limited to personalization! There's a world filled with fantastic homewares that any couple would love to receive on their 50th wedding anniversary.
For instance, new bedding is always appreciated – especially if made from luxe materials like Egyptian cotton or silk! Similarly, elegant kitchenware – like crystal wine glasses or gold-plated cutlery sets – is also a winner. Consider items that add a touch of luxury to everyday living.
Let's say your friends are green thumbs; in this case, outdoor decor is the way to go. Bird feeders, sundials, or garden statues make delightful anniversary presents!
And remember: while these gift suggestions might seem specific to particular tastes and interests, what really matters is the thoughtfulness behind your selection. Choose something that screams "them," and you can't go wrong!
Jewelry and Accessories
Nothing says "Cheers to 50 years!" like beautiful gold jewelry or a classy accessory. On this spectrum, you have many choices. For instance, personalized gold cufflinks for them could be an ideal pick. They're versatile, practical, and always in fashion. You can add initials or memorable dates on them to make the gift even more personal.
For her, consider a stunning gold pendant necklace adorned with precious stones or maybe her birthstone. You could also opt for timeless classics like a gold bracelet or earrings. Remember, it's all about their style and preference; these are just suggestions!
Now, if your friend isn't big on jewelry, there are still plenty of other accessories they might love:
A sophisticated gold watch

Gold-toned picture frames

Chic sunglasses with gold detailing

Designer belts with an elegant gold buckle
Take your time with the vast array of choices out there! Take one step at a time and remember – the thought counts more than anything else! This is where anecdotes or personal stories come in handy – you know your friends better than anyone else.
The icing on the cake would be finding something unique – those showstoppers that leave everyone marveling at their beauty! An artisan-crafted necklace from Bali or vintage cufflinks from Paris would do.
Opting for jewelry or accessories as 50th-anniversary gifts offers tons of flexibility while giving you something long-lasting and memorable!
Gifts for a Lifelong Friendship
First off, consider personalized jewelry. It always stays in style, and it's something they can keep close all the time. From bracelets to necklaces, there's plenty of room for creativity here. Perhaps engrave them with essential dates or inside jokes only the two of you understand – whatever feels right!
Another thoughtful idea is custom artwork. Whether it's a painting depicting a favorite memory together or a beautiful photo montage showcasing half a century of friendship, this gift will surely touch their hearts.
Now let's talk about experience gifts – because isn't life all about experiences? Maybe there's been talk about that dream vacation spot for years, but neither has ever managed to go. Or, possibly, an anticipated concert by their favorite band coming up in town? Well, now could be the perfect opportunity! These kinds of memorable experiences often hold more value than physical objects.
Here are some other ideas:
Vintage wine from their birth year

A fancy dinner at their favorite restaurant

A time capsule filled with mementos from moments shared over the years
Of course, what truly matters at the end isn't the price tag on these gifts – it's all about showing appreciation for five decades' worth of laughter, tears, adventures, and quiet moments spent together in friendship. And really…there is no better gift than that.
Budget-Friendly Friendship Tokens
Celebrating a friend's 50th anniversary doesn't have to break the bank. In fact, some of the most cherished gifts come straight from the heart and not necessarily from a high-end store. They've spent half a century together – that's worth celebrating with more than just material possessions!
Personalized gifts consistently rank high when it comes to meaningful presents. A customized photo album with memories they've made over the years could be a budget-friendly option. It's all about showing them how much you cherish their journey and relationship.
Let's also remember DIY projects! If you're crafty, why not put your skills to use? Knit them a cozy throw blanket or paint them a beautiful picture. These handmade gifts carry extra love because they're made especially for the couple.
Here are some additional ideas for wallet-friendly tokens:
Custom-made puzzles featuring their wedding photo

A picnic basket packed with gourmet treats

Matching coffee mugs with their names and anniversary date
Books centered around love & relationships can be another thoughtful gift idea without splurging too much. Opt for titles that reflect marriage, companionship, or famous love stories. After all, isn't there a story worthy of being told?
So whether it's personalizing items just for them or delving into DIY territory – there's no need to stress about extravagant costs when picking out that perfect anniversary gift. At the end of the day, it's really about letting your friends know how much they mean to you.
Conclusion
And there you have it, folks! Golden anniversaries come around only sometimes. That's why it's so important to honor them with gifts that tell a story – the story of 50 beautiful years shared between two people.
Golden anniversary gift shopping doesn't have to be stressful. Far from it! Just remember, what counts most is the thought behind the present. After all, your friends have spent half a century making memories together. Anything that celebrates those moments will surely touch their hearts.
So whether they're art lovers or wine enthusiasts, gardeners or gourmets, we've got some fabulous suggestions for everyone:
For the

art aficionado

, how about a replica of a painting they love?

Consider specialty seeds or an antique watering can if they're into gardening.

Wine connoisseurs would appreciate vintage wines, while foodies might enjoy gourmet hampers.

Lastly, let's remember personalized items like engraved jewelry or custom-made keepsakes.
And hey, why stop at one gift? Feel free to mix and match these ideas! Remember, this is their golden moment. Let them bask in its glow!
In short – when choosing a 50th Anniversary Gift for friends, think gold (for tradition), think personal (to celebrate their unique journey), and above all else – think heartfelt. We hope our list has inspired you and made your shopping experience easier!