Did you know that every US president has gotten a presidential portrait painting done for them upon leaving office? These paintings can take 1-2 years to complete and cost hundreds of thousands of dollars. The Obamas' portraits reportedly cost $500,000.
Don't worry though, historically US presidents have stopped using tax-payer money to fund these paintings.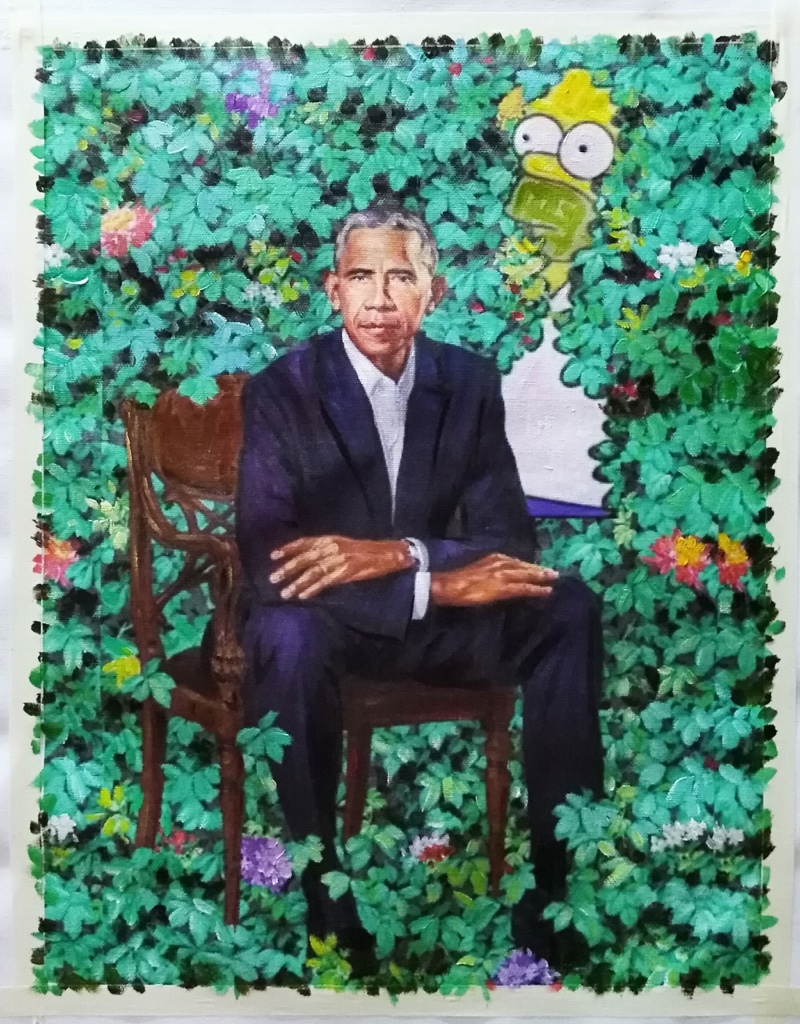 The one pictured above is not the official Obama portrait, but a playful satire as a Mixed-Media painting ordered through our service. Total cost: $59. It was completed in 5 days. Had this been a 100% hand-painted painted exact replica of the oil painting also done in oil on canvas, it would have still only cost $133 through Instapainting.com.
The reason why the Obamas' portraits were so expensive is because they hired prominent artists with a long line of hopeful customers. Kehinde Wilde is the up-and-coming artist who painted Barack Obama's portrait. He's known for doing satirical portraits depicting modern African American youth inside portraits of historical white figures, such as this remixed painting of Napoleon Crossing the Alps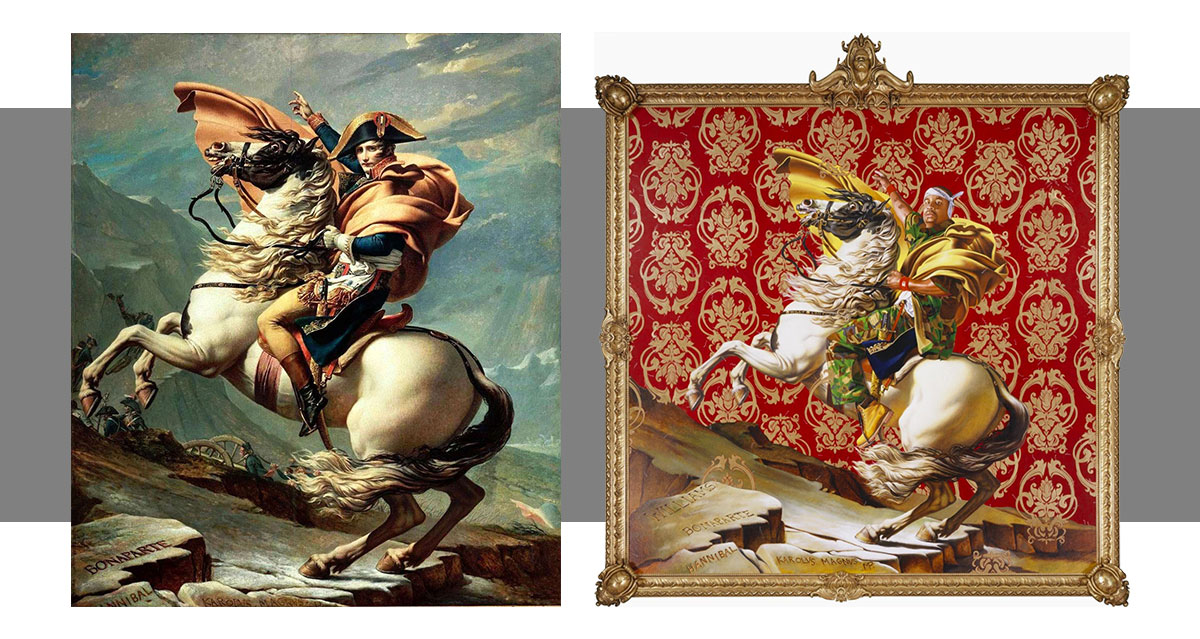 Wilde didn't simply just copy the painting, and what he did can best be described as inspired by the original painting, but this still isn't why he commands such a high price. Artist pricing has more to do with their demand than necessarily their technical skills. Prior to painting for the Obamas, Wilde had been commissioned by major brands like Puma, and had his artwork featured on 500 New York City taxi cabs. In some cases time can be the main factor for their notability. Famously, Vincent van Gogh only managed to sell one of his paintings when he was alive (and at a modern day price of $109). Unfortunately for him, it was only 20 years after he died that his paintings became valued at millions of dollars. Notability, hype, and simply being in vogue are the top reasons why an artist can be expensive.
When an order comes in to Instapainting, we are able to find and match it with skilled artists that may not have developed a name for themselves yet. This allows the pricing to be reasonable while still maintaining the quality of a trained artist. Take this example of Napoleon Crossing the Alps, also commissioned by an Instapainting customer. It is 100% hand-painted oil on canvas—the same manner by which Wilde painted Obama's portrait or his version of the Napoleon painting, just without his notability, trademark style, or expense.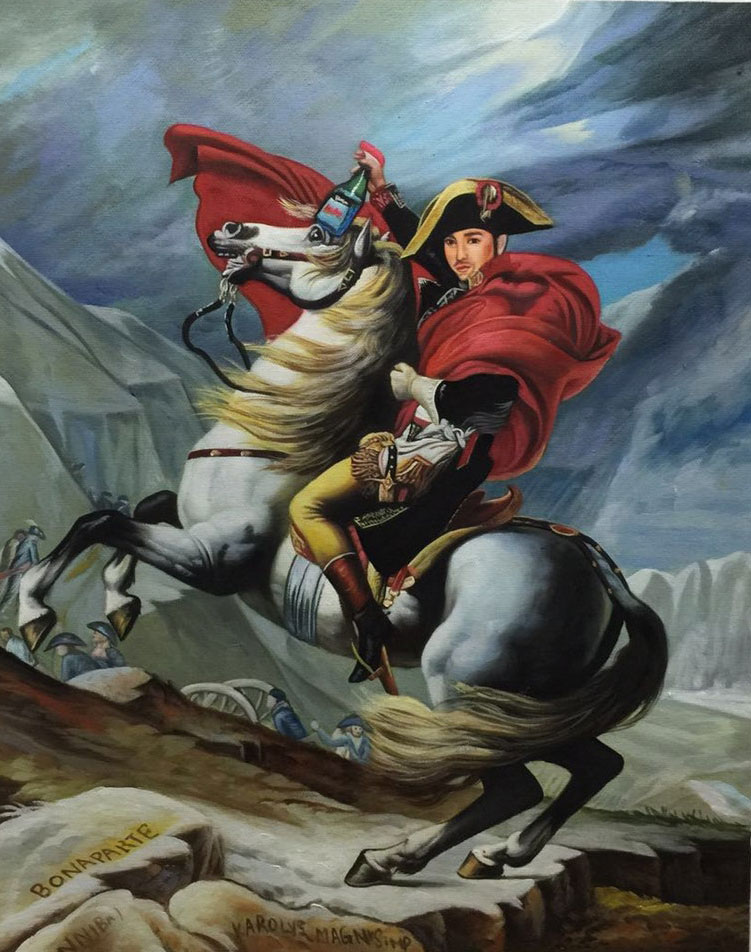 You may not have noticed, but this isn't simply a faithful reproduction of the classic Napoleon painting. The customer had inserted his own face into the painting in place of Napoleon Bonaparte.
Instapainting can find you an artist to do this as well, and all you'll need to do is upload the photo of the original painting, a selfie, and pay the artist about $224. This particular order was finished in a mere 5 days.
And it's not just inserting faces. You can fully customize your request in our instructions field. Artists have inserted whole other people or pets into classics. You can find more examples in our Remix Painting gallery.
Oil paintings were historically for the bourgeoisie. But these days with the advent of technology, proliferation of art graduates, and globalization, we can find an artist for anyone, anywhere. If you've got an idea and some pictures, we can help you turn it into reality. Find a photo from social media or on your phone, and we can get you the same gift US presidents get when they leave office.
View our Holiday Order Guidelines to view optimal times for submitting your order for Holiday delivery.
Place an order today to secure your artist now and get delivery by Christmas or another Holiday deadline.
Instapainting prices fluctuate on a daily basis based on real-time demand for artists and marketplace pricing. Prices shown are examples pulled from the time of publishing.