Hitting that big 3-0 anniversary milestone, huh? Wow, you've got something special, and it's time to celebrate with an equally special gift. You're probably racking your brains for that perfect present. Well, guess what? You're in luck because we've rounded up some unique 30th-anniversary gifts that'll knock the socks off your significant other!
Let me tell you, finding a gift worthy of three decades of love isn't easy. But don't worry – we've done the heavy lifting for you. We're talking about exceptional, one-of-a-kind pieces, from customized art to elegant jewelry and even fun experiences for two!
Don't just scroll past this article – dive in! We promise there's something here that will help you make this monumental occasion extra memorable. Now, let's get started on this journey of gift-giving discovery!
Table of Contents
Custom Painting from a Photo

Personalized and Thoughtful Presents

Romantic and Sentimental Tokens

Home and Decor Gifts

Jewelry and Accessories

Fine Dining and Culinary Experiences

Budget-Friendly Unique Gifts

Conclusion
Custom Painting from a Photo From Instapainting
Imagine this: You're flipping through your favorite photo album. Suddenly, you stop on that one particular memory. The light in the photo is just perfect, and the smiles are unforgettable. Wouldn't it be fantastic if you could turn that cherished moment into a piece of art? Well, guess what? That's precisely what custom paintings from photos let you do!
One such platform that facilitates this magic is Instapainting. It's an online marketplace teeming with gifted artists who can transform your precious digital memories into stunning works of art. Each artist brings their unique style and panache to the canvas, ensuring that no two pieces are identical.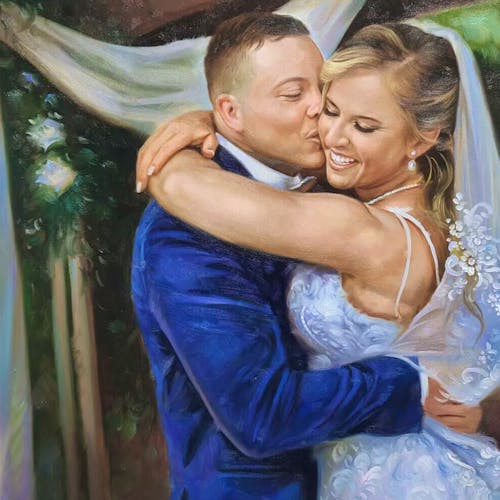 Here's why a custom painting makes for an unforgettable 30th-anniversary gift:
Personal Touch

: A custom painting created from a unique photograph isn't merely decor; it reflects shared experiences and affectionate moments.

Unique

: Unlike mass-produced items, each painting is unique―just like your relationship!

Timeless

: Art always stays in style. A beautiful painting can be cherished for generations as a family heirloom.
On Instapainting, getting started couldn't be easier! Simply upload your photo, choose the type of artwork you want (like oil or watercolor), and select an artist whose portfolio resonates with you. Once you've placed your order, you can only wait for your masterpiece to arrive at your doorstep.
So why not surprise your partner with something unique on this landmark anniversary? After all, three decades together deserves more than just another store-bought trinket—it warrants a true testament to love and time spent together—a custom painting from a treasured photo!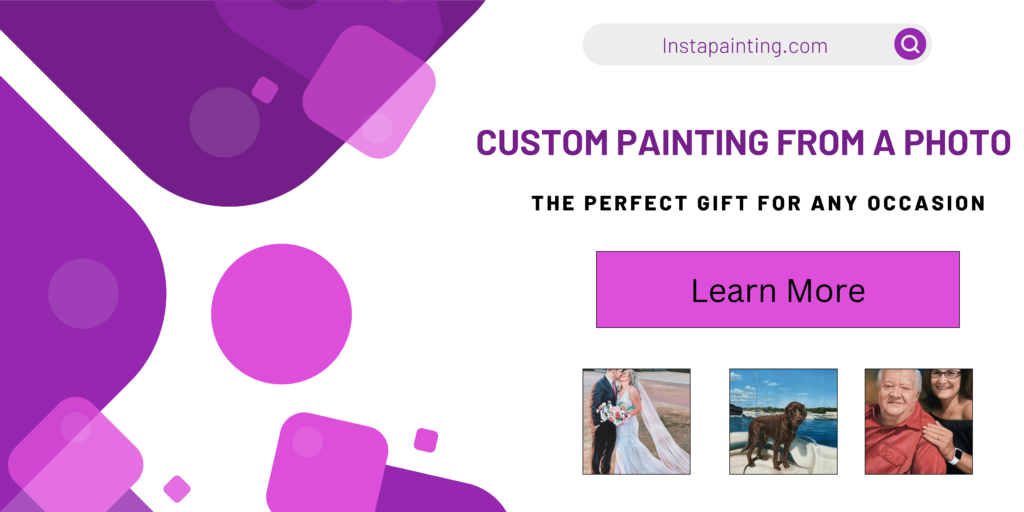 Personalized and Thoughtful Presents
One idea is to go for custom-made jewelry. Now, don't worry; custom doesn't necessarily mean expensive. It can be as simple as engraving your partner's initials or embedding their birthstone into a piece they'd love – think bracelets, rings, or necklaces.
Custom Engraved Bracelet

: Add both initials with a heart in between.

Birthstone Ring

: Choose a design that includes the birthstones of both partners.

Engraved Necklace

: Put down a short message or significant date on it.
If jewelry isn't the route for you, no problem! A beautifully crafted piece of art also makes for an extraordinary gift. You could commission an artist to paint a stunning portrait of the two of you or re-create one of your favorite shared memories. Remember, though —a good piece takes time, so plan!
Next up are monogrammed housewares – they're chic yet functional! Whether it's plush towels with both partners' initials stitched onto them or classy wine glasses etched with their names – these gifts add personality to everyday items.
Don't underestimate the power of handwritten letters, either! In our fast-paced digital age, putting pen to paper can speak volumes about how much you care. Consider writing 30 letters for 30 years,' where each letter reflects on a year spent together and why it was meaningful — now that's truly touching!
Romantic and Sentimental Tokens
Pearl jewelry is always at the top when celebrating three decades together. You know what they say about pearls, right? They symbolize wisdom acquired through experience – just like your marriage journey. Opt for some exquisite pearl earrings or a charming necklace. This would be a perfect way to remind your spouse how much they mean to you.
What about something more personal? A custom-made sketch of the two of you could hit all the right chords. Picture this: an artist capturing that special moment from your early years together in a beautiful sketch! It's not just a gift; it's also a time machine taking you back to those precious memories.
Here are a few other options:
A bouquet made of paper flowers (just like in old times)

A handwritten love letter (oh so romantic!)

Personalized wine glasses with your initials

An engraved watch with the date of your wedding
Remember, these aren't just objects. Each carries a message – that after 30 years, you're still madly in love and can't wait for many more anniversaries!
So there you have it! No matter which route you choose – classic pearls, personalized sketches, or maybe even a heartfelt letter – rest assured each token will leave an imprint on their heart as lasting as the past three decades have been.
Home and Decor Gifts
Say, isn't your 30th anniversary just around the corner? It's a significant milestone that deserves to be celebrated with an equally impressive gift. What could be better than something that adds a touch of elegance and charm to your home? Our list of unique home and decor gifts will surely inspire you.
Firstly, let's talk about personalized wall art. These aren't just any run-of-the-mill decorations! Think custom-made pieces that tell your love story or depict a favorite shared memory. Imagine waking up every day to a beautiful illustration of the place you first met or the lyrics of 'your' song artistically scribed on canvas. Now, that's what we call melting hearts!
Second on our list is an elegant timepiece–a "sundial," for instance. It's symbolic, it's romantic…and guess what? You can customize it, too! A brass sundial embellished with your name and wedding date can create a timeless centerpiece in your garden or patio.
Here are some other ideas begging to make their way into your shopping cart:
His & her matching recliners

Custom engraved candle holders

Personalized family name sign
Ever heard of 'experience gifts'? They're all the rage these days! How about transforming part of your house into a mini theater for movie nights or setting up an intimate dining area under the stars? The possibilities are endless!
Moreover, consider indulging in luxury bedding sets made from sustainable materials – because who doesn't love snuggling up with their better half under super soft sheets?
Jewelry and Accessories
Nothing screams 'special' louder than jewelry. It's timeless; it's elegant and always cherished by the recipient. So, how about considering a pearl necklace or earrings for her? Pearls symbolize wisdom acquired through experience – just like your long-lasting relationship! For him? A gold cufflink or a classic watch could do the trick!
Pearl necklace

Pearl earrings

Gold cufflinks

Classic watch
These are not ordinary gifts; they carry deep meanings in each tiny detail.
Let's dig deeper into these options:
Pearl Necklace

: The pearl necklace is an emblem of beauty and purity – perfect for celebrating 30 years of pure love.

Pearl Earrings

: Like the necklace, pearl earrings share similar connotations and can be paired wonderfully with the chain!

Gold Cufflinks

: Gold represents strength, wisdom, and endurance – attributes that have indeed characterized your journey together.

Classic Watch

: A timepiece symbolizes all the time you've spent together, and here's hoping for many more hours to come!
You don't need to worry if these suggestions might blow your budget because plenty of affordable yet chic options are available out there, too.
More than anything else, remember that it's not about how expensive a gift is but its sentimental value that matters at the end of the day! So, let's make this 30th anniversary one for the books with these exceptional jewelry pieces and accessories!
Fine Dining and Culinary Experiences
Now imagine this. You're at a fancy restaurant that requires a reservation well in advance. The ambiance is perfect—soft candlelight, quiet conversation, crisp white tablecloths. Then arrives your meal – each dish more exquisite than the last! It's not just food you're enjoying but an artistic performance plated right before your eyes. From Michelin-starred eateries to hole-in-the-wall hotspots locals swear by, fine dining experiences are gifts that offer more than just great grub.
What if we told you it gets even better, though? Picture yourselves donning chef's aprons next and getting hands-on learning from culinary masters! Cooking classes can be a fantastic way to bond while picking up new skills (and recipes) together.
Here are some unique culinary experiences you could consider:
Private Chef Experience:

A professional chef whips gourmet delights in your home.

Wine Tasting & Pairing Class:

Learn how to pair wines like pros!

Sushi Making Lesson:

Roll sushi rolls like true sushi meisters!
But here's where things get interesting – why not take things international without leaving your city? Explore unique global cuisines through immersive cooking workshops or theme-based dinners. Relish the spice-infused flavors of Indian curry one day, or roll out fresh Italian pasta dough another day!
Budget-Friendly Unique Gifts
"Jewelry? That's expensive!". Don't worry; we're not talking diamond-encrusted stuff here. How about a lovely bracelet with charms representing memorable moments from each year you've been together? Or matching engraved rings with the date of your anniversary or an inside joke only both of you understand.
Next up is personalized art. It's incredible how much sentimentality a piece of artwork can hold when tailored just for you and yours. Consider getting an illustrated family portrait or maybe even a star map showcasing the constellation on the night you met or married.
Here are some more options that'll surely tug at those heartstrings without pulling too hard on your purse strings:
A scrapbook filled with tickets from concerts, trips, and movies attended over the years.

A puzzle made from a favorite photo.

A cooking class to take together (if local restrictions allow) or virtually.
And let's not forget about experiences! Some say they're worth more than material things anyway, right? Plan a weekend getaway – it doesn't have to be far or fancy, just somewhere special to both of you.
Conclusion
You've explored an array of unique 30th-anniversary gifts that go beyond traditional pearls or diamonds. From personalized artwork to travel experiences, there's something out there for every couple. Here are some key points to remember:
Personal touch matters: Whenever possible, personalize your gift. It adds an extra layer of thoughtfulness that can't be beat.

Experiences over material items: If you choose between a physical gift and an adventure, lean towards the latter. Memories last longer than objects!

Keep their interests in mind: Consider the recipient's hobbies or interests when selecting a gift.
But remember, no matter what gift you choose, it's not about how much money you spend but rather the thought and sentiment behind it.
It's been great sharing these fantastic 30th-anniversary gift ideas with you! Here's hoping they've sparked inspiration for making your significant other feel loved and cherished on this memorable occasion.
Now, get out there and celebrate those wonderful thirty years together!